Modern Dentistry and Caring Relationships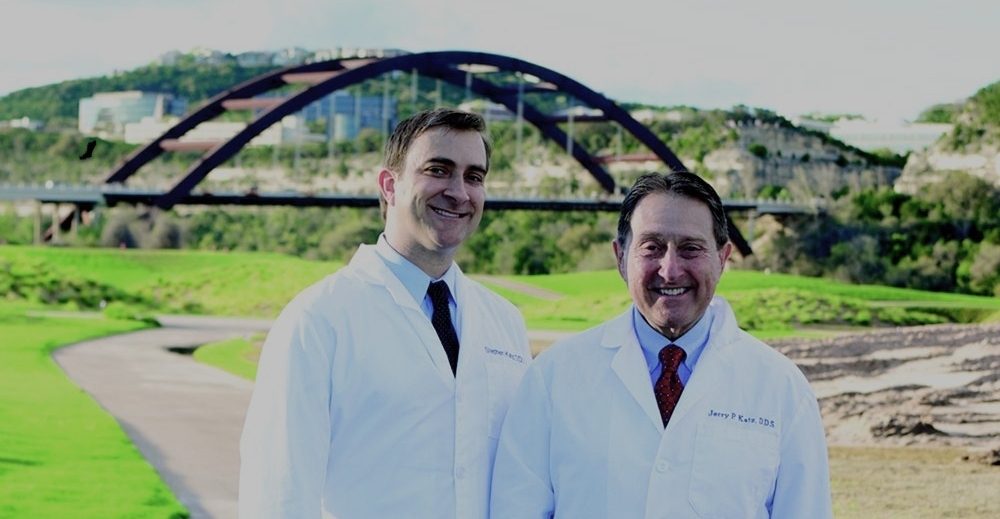 Relationships built on Trust
We are a family-owned, father and son dental practice serving Austin for over 3 decades. We seek long-term relationships with patients who value our continual efforts to offer you the highest level of general and cosmetic dentistry in a caring, patient-centered environment. Beyond fixing problems, we focus just as much on reducing your need for dental care down the road.
A Higher Level of Care
As research and technology transform dentistry, what was state-of-the-art care yesterday is outdated today. Dr. Jerry and Dr. Steve share a passionate, lifelong commitment to education and re-invention of our practice so that you always receive the most up-to-date care. In our practice you will benefit from the latest science on cavity prevention and gum disease treatment; in addition, we are one of the first offices in the country to offer Digital Smile Design, as well as ultra-thin veneers, which often can transform your smile with no drilling on your natural teeth. We look forward to sharing our passion for learning with you as we continually seek to bring you the best care possible.
Natural Looking, Beautiful Results
Your smile is one of the first things people notice about you. We think you deserve to look your absolute best.
Our practice has a longstanding reputation for excellence in cosmetic and implant dentistry. With over 30 years of experience in Austin, we know that an exceptional result only happens when your dental team can put it all together. We offer you unparalleled artistry, the most advanced materials, and established relationships with the world's best specialists and laboratories.
We look forward to discussing how our services can make your smile more youthful and attractive.
Jerry P. Katz, DDS, FAGD, FACD, FICD
Jerry earned his BA from the University of Texas at Austin and his DDS from the University of Texas School of Dentistry in Houston. He holds fellowships in the Academy of General Dentistry, the American College of Dentistry, and the International College of Dentistry. He has been honored three times as "Dentist of the Year" by both the Central Texas Academy of General Dentistry (in 1995 and 2009) and the Capital Area Dental Society (2000). He has also been named aTexasMonthly "Super Dentist."
Stephen A. Katz, DDS, PhD
Steve grew up and Austin and graduated from Westlake High School. He holds degrees from Duke University and the University of California at Berkeley, where he earned a PhD in English Literature. He earned his DDS from the University of Texas School of Dentistry in Houston, where he was first in his class.
Steve is a member of OKU, the national dental honor society, which selected him to receive its William S. Kramer award of excellence.

Our Team
Our Clinical Team of chairside assistants and hygienists -- RoseAnn, Lori, Krystal, Brooke, and Cindy, share an extraordinary commitment to providing exceptional dental care and establishing sincere relationships with our patients.
Our Administrative Team -- Penny and Vivian -- are available to help you efficiently schedule your appointments and process your insurance claims. They are available to facilitate all of your treatment needs within our office and in collaboration with specialists.
Our Office
We appreciate that, for many people, dental procedures can evoke more than a little apprehension and angst. That's why we designed our office to feel like a home. We hope you'll notice the difference in the way you're treated by everyone at our office. We will take the extra time to understand your past experiences with dental care, and go out of our way to make your experience with us a positive one.